Please note: As a courtesy, please do not reproduce these comments to newsgroups, forums or other online places. Links only please.
Kings: Exclusive Sneak Peek Screening and Q&A with Cast and Executive Producers
The panel's description: "Kings is a contemporary re-imagining of the timeless tale of David and Goliath, an epic story of greed and power, war and romance, forbidden loves and secret alliances, and a young hero who rises to power in a modern-day kingdom. Be the first to see the prologue from the two-hour pilot. Moderated by Greg Grunberg (Heroes), with Q&A with creator/executive producer Michael Green (Heroes), director/executive producer Francis Lawrence (I Am Legend), executive producer Erwin Stoff (I Am Legend), and the cast: Golden Globe winner Ian McShane (Deadwood), Chris Egan (Resident Evil: Extinction), Sebastian Stan (Gossip Girl), Susanna Thompson (Star Trek: Voyager) and Allison Miller (Seventeen Again). Room 6B"
9:48 AM: Has it been a year already? Yes boys and girls we're back at the San Diego Comic-Con. First up on our schedule is "Kings." You can check out my "first look" at the show's script here. Anywho, we're waiting for the panel to begin. As always, Thursdays are less crowded so it's a fairly low key turnout (the room we're in is about half full).
9:55 AM: Someone's just put out a few red flags with butterfly emblems. For those curious, it's the flag of the show's fictional nation. They've also set out name cards that indicate we'll be seeing Ian McShane, Susanna Thompson, Sebastian Stan, Allison Miller, Chris Egan, Erwin Stoff, Francis Lawrence, Michael Green and our moderator, the man, the myth and legend that is Greg Grunberg.
9:59 AM: Now they're passing out buttons with the same emblem - I will try and post pics later when I get a free moment.
10:02 AM: Guess we're running a little late.
10:03 AM: And we're off - Grunny has taken the stage and tells we're going to see 20 minutes worth of footage from the pilot.
10:27 AM: So... much... to... digest... they showed the entire first act - which is actually different from the script. There's a new prologue which surrounds the dedication of the new capital at Shiloh. It then fast forwards two years to where the old script begins and goes through David's epic battle with the Goliath tank. Afterwards, they showed the trailer from TCA - lots of images set to Coldplay's new song. More on this later...
10:30 AM: Grunny says Ian McShane is held up by traffic on the 405. Michael relays a message from Ian which uses the word "cocksucker" about five times.
10:34 AM: Michael on the show's genesis (paraphrased): I just gave NBC the craziest fucking idea I could think of and they went with it. Francis mentions that they had a budget of about $10-12 million for the pilot, which was filmed entirely in New York.
10:36 AM: Erwin says that Green's script was the only one Francis read - right around when "I Am Legend" opened.
10:38 AM: Greg remarks that he's in love with Chris - "Man I thought Sendil was good looking but damn!"
10:40 AM: Chris, who's Australian by the way, says he was the first cast. Susanna notes her audition was done over videoconferencing to New York. Grunny notes that Allison is destined to be the new "it girl."
10:45 AM: Michael says he was "freaked out" by how supportive NBC is. He also notes that they have the first year mapped out, and they'll continue to borrow elements from the classic story.
10:46 AM: Audience Q&A time. Someone asks about the show's religious overtones. Michael notes he doesn't see it as a religious story but rather a hero's story.
10:48 AM: Meant to mention above: Eamonn Walker ("Justice") plays Reverend Samuels. The prologue features mechanic David fixing Samuels's car and then being given a watch which features the king's emblem as payment. Also of note: the King's boardroom is actually the same location where "The Ellen DeGeneres Show" tapes when she's in New York. Why I know random facts like this is beyond me.
10:50 AM: Someone asks about working with Ian. "He's a puppy," Sebastian quips. "He's crazy," adds Susanna (in a good way).
10:51 AM: Last question - when will it be on. Erwin says February is all they know. Grunny suggests they air it after "Heroes."
10:52 AM: That's it kids - see you in a few.

Chris Egan, Erwin Stoff, Francis Lawrence, Michael Green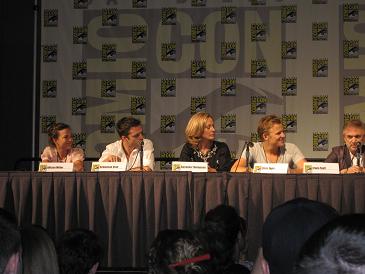 Allison Miller, Sebastian Stan, Susanna Thompson, Chris Egan, Erwin Stoff

Susanna Thompson, Chris Egan

Allison Miller, Sebastian Stan, Susanna Thompson